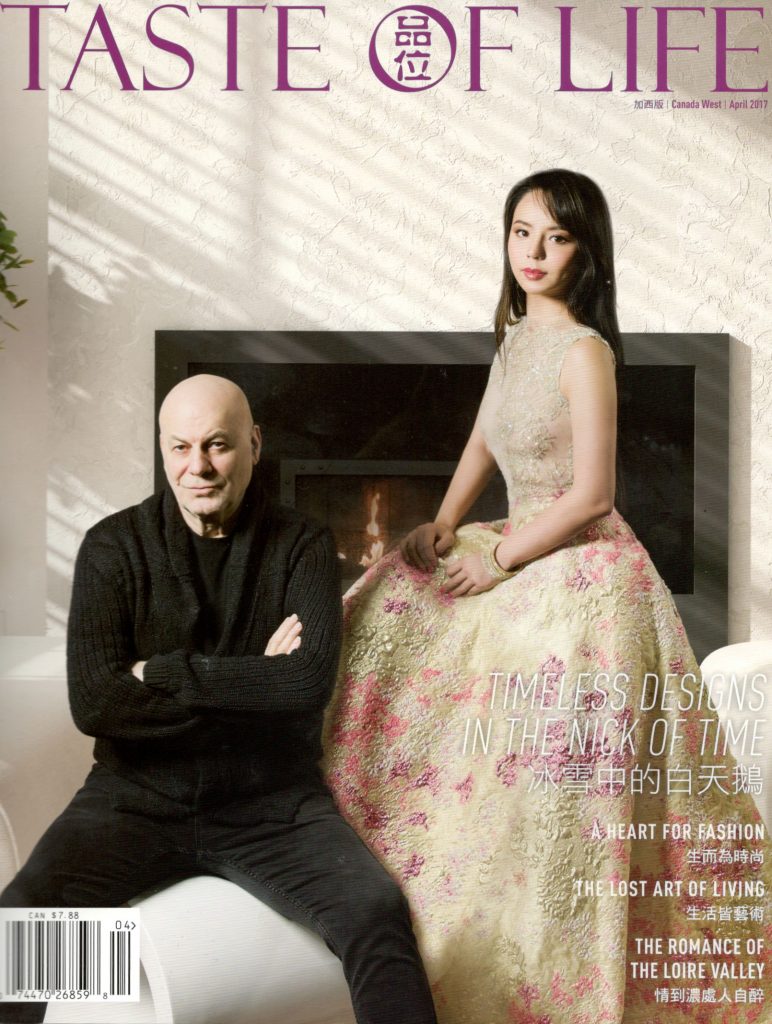 Article and images courtesy of Taste of Life Magazine, article by Theresa Kowall-Shipp and Jared Pearman
Full article available here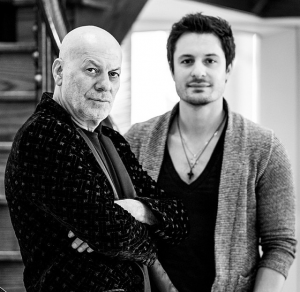 The first thing that strikes you when visiting the finest fashion atelier on Queen Street E. in Toronto is the neoclassical building. At a stately 100 years old, the building was originally the Canadian Bank of Commerce. It was designed by John Pearson and Frank Darling, the same architects behind Canada's parliament buildings. To balance the grandeur of the edifice, a cool elegance greets you within the doors — a style defined by the man with his name on the door: Stephan Caras. 
Once you recover your equilibrium from the overwhelming first impression, the substance of the design house takes over your senses. An endless array of fabrics in brilliant colours and rich textures peek around every corner: heavy brocades, whispers of butterfly-light silks, and elegant laces. The yard goods alone are impressive, but then you hone in on the garments, each one a sculpture, a statement, an ode to the female form.В 
 "She's the real hero. We want to help her express herself." — Stephan Caras
Welcome to the world of Stephan Caras.В 
When we visited, the elegant studio was made even more glamorous by the presence of Canada's Miss World Anastasia Lin, who was there to bestow a new title on Caras: hero. Caras became her knight in shining armour when the fearless beauty queen needed one the most.
In 2015, Anastasia was crowned Miss World Canada in part due to her platform addressing human rights violations in China. When it was announced that the international Miss World pageant in 2015 would be held in Sanya, China, Miss Lin was denied the required letter of invitation from the Chinese government in order to attend.В 
Through a series of twists and turns currently being documented for an upcoming film titled Badass Beauty Queen, the Story of Anastasia Lin, Anastasia and her supporters discovered that a pre-approved visa was not required for Canadians visiting Sanya, as it is a tourist area.В 
So at the last moment, Anastasia packed her crown and sash and jumped on a flight. Unfortunately, unknown to Anastasia, she was declared persona non grata — literally as she was in the air on her way to Hong Kong to a catch a connecting flight to Sanya. This all resulted in a worldwide media frenzy and Anastasia not being able to compete in the international pageant in 2015.
When Miss Lin returned to Canada, she was celebrated at a press event for bravely attempting to represent Canada (not to mention Chinese human rights victims). In preparation, Anastasia did what beauty queens do — she visited her dress supplier to procure a gown for the event. Unfortunately, before Anastasia could get to her designer, the Chinese government did. The designer, who is a Chinese-born Canadian with family still living in China, had been intimidated to the point of abruptly withdrawing support.
Over the next 12 months, Anastasia didn't let the lack of a dress supplier stop her from becoming a darling of the human rights community, speaking at events from India to Oxford, Washington, DC, Oslo, and more. But when the Miss World organization, recognizing the inequality of the events of 2015, offered Miss Lin the opportunity to extend her reign as Miss World Canada and participate in the 2016 international pageant, the need for dresses become more than urgent.
Which brings us back to Stephan Caras and his talented assistant designer (and son), Kyriako Caras, on that cold day this past November. Caras senior was born in Greece and educated in Australia. He amazed Anastasia with the story of how, at the tender age of 18, he designed an evening gown for a Miss World Australia who went on to win Miss World (international), wearing his gown. This success launched a flurry of pageant girl clients for the nascent designer. Ironically, before approaching Caras, Miss Lin knew nothing of his past pageant involvement.
When asked why she chose Caras, she said: "Stephan's qi [or chi] matches my own. His energy comes across in his designs. Perhaps it's because of his early theatre training and the fact that I am an actress, but we just match somehow. Trying on his dresses, I feel like I'm in a fairy tale, like Cinderella going to the ball."
She recognized this connection on their first meeting and fell in love with the designs because they are not typical pageant girl confections. Instead, Stephan Caras pieces are beautifully structured garments that accentuate the female form, even one as slight as hers, while at the same time delivering a timeless look.
Although the term "couture" or "haute couture" is today protected in France and awarded to only 15 houses, one might argue that a designer like Caras has a shot at the title. Caras gives Toronto the kind of panache that once was awarded only to Paris. No wonder Anastasia Lin wanted to be dressed by him.
CEO World Magazine and Runway Magazine have placed Stephan Caras on their "List of the World's Top 20 Fashion Designers" (2011) as well as the "Top 25 Most Beloved and Inspiring Fashion Designers of the World" (2013). Anastasia has placed him on her list of knights in shining armour — the brave people who won't be intimidated. To her they are heroes.
When asked why they came to Anastasia's rescue, their answers turned into a back and forth that exemplifies how well they work together.
Stephan: "We're artists; we're designers. What we see is a woman who needs help. What we see in her is a desire to do something. We want to support that."
Kyriakos: "We're not heroes. We love what we do; we are passionate about it. Anastasia is the same about what she does. That's why there is a connection."
Stephan: "She's the real hero. She's out there actively pursuing it. We want to help her express herself."
The conversation continues as they fit Anastasia with a gown for her pageant finale. Stephan says that it's made to make her look like a swan, and looking at Anastasia in this intricately layered tulle-skirted gown, you can easily envision her floating across a stage like an elegant swan gliding on a glassy lake. 
Kyriakos talks about the importance of connecting with clients on a personal level and stresses that this is something that they do with all their clients. "We're really trying to tap into how a client feels — what she wants to wear, how she wants to express herself. This is all about Anastasia right now. She's already showing the world that she has strength. We're just trying to amplify it. We're just trying to express what she's feeling inside." Stephan adds that he can connect to Anastasia's passion for her cause because he is so passionate about his own work.
Stephan sums it all up: "We love detail, we love textures. Textures are very important for us, and the feel of it, because this is what goes against a woman's skin, right? … When you feel good, you express it. And that's what it's all about. It's expressing how you feel… It's what we feel makes a woman feminine. And that is really our objective, that's why they're timeless. Femininity is timeless."
As Miss World Canada Anastasia Lin leaves the rarified atmosphere of the historic building, she smiles a little broader, and even without her swan dress, she appears to glide down Queen Street, affected to her core by the Stephan Caras experience.
Anastasia did not end up winning the crown at the Miss World 2016 finals, but the media and her supporters believe that she won in the arena that counted, the arena of public thought, where this young woman taught the world a thing or two about how to deal with China and how to stay elegant amid calamity — something made a little easier with Stephan Caras in her corner. 
For more information on Anastasia Lin and her great story, please visit www.anastasialin.com