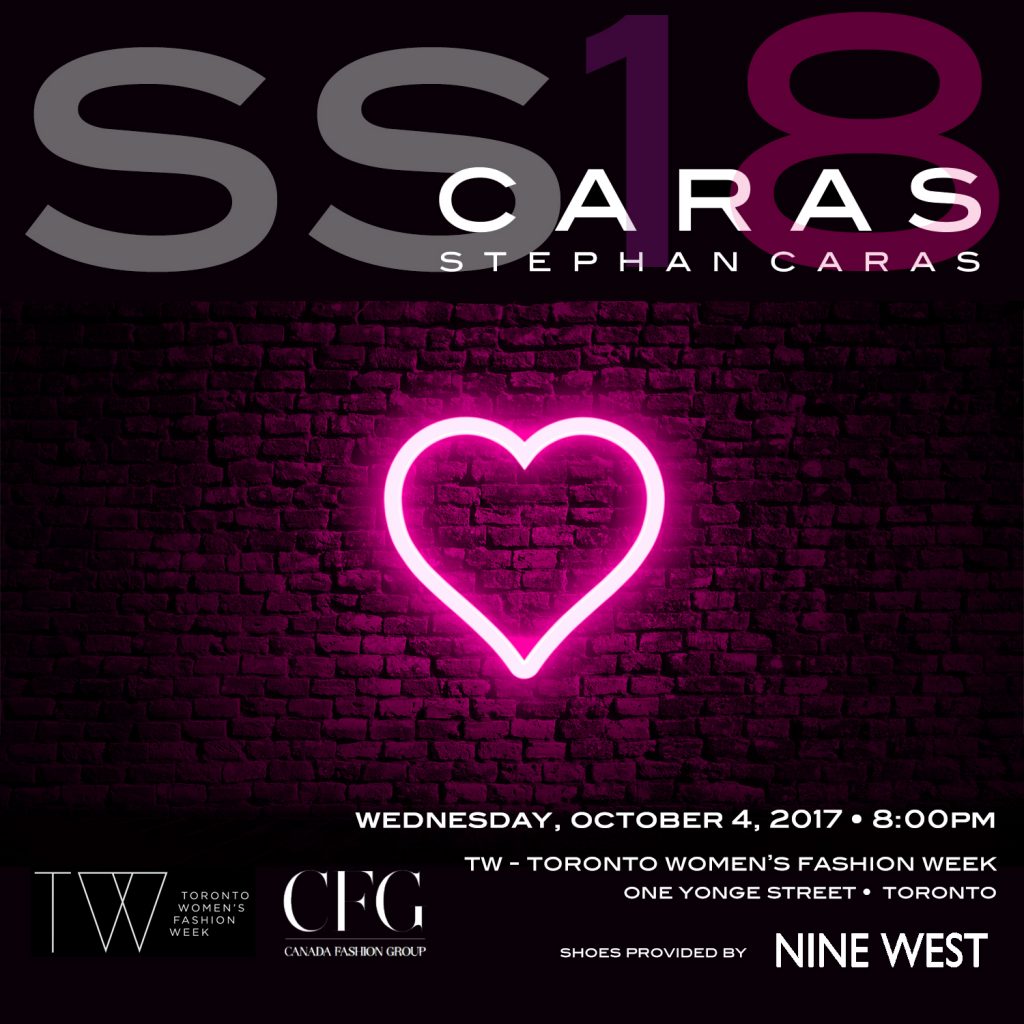 FOR IMMEDIATE RELEASE – September 25, 2017
Toronto, ON. " Toronto–based father-son design duo announced their return to the runway to present the CARAS, Stephan Caras Spring/Summer 2018 collection on Wednesday, October 4 at 8 p.m. at Toronto Women's Fashion Week. Caras' newest collection stays true to its philosophy of design, continually inspired by femininity and sensuality while offering an elegant and enticing expose of dramatic lines, trailing lengths and plenty of volume.
The emphasis of this season's collection is placed on the use of luxurious textures, sophisticated lines and exquisite detailing. Plunging neck lines, asymmetric treatments and fun flirty contours connect to create dramatic silhouettes. The collection seduces through the use of bold colour palettes in floral and blush undertones.  It is inspired by opulence and femininity.
"Our Spring/Summer 2018 collection is inspired by women who enjoy a touch of drama in their outfits, demonstrating their individuality and sensuality, said designer Stephan Caras. This bold collection is a fashion forward statement and an ode to the strength of confident women."
"Our philosophy has always been to create collections that are feminine and sensual. For Spring/Summer 2018 we showcase a beautiful palette of pastels that emphasize opulence. Sleek shapes achieve a balance between elegance and drama." added co-designer Kyriako Caras.
Signature CARAS gowns made of luxurious floral lace reign in a fluttering palette of floral undertones, while evening wear parades dramatic appliques, flowing chiffons, opulent embroideries, and form fitting silhouettes.  The collection celebrates drama and shows that a woman can have fun, and be elegant and sensual all over again.
Runway images will be available following the show.
Hashtag: #StephanCaras #Caras
Twitter:В @StephanCaras
Instagram: @StephanCaras
Facebook: Stephan Caras
About Stephan Caras Design Inc.:
Stephan Caras is a well-established Toronto-based designer with more than 20 years of fashion expertise. Caras has participated in various fashion events in cities around in the world, including Paris, New York, Hong Kong, Athens and Toronto. Born in Greece and educated in Australia, Caras now calls Toronto home. His European-style fashion house is located in a beautifully renovated heritage building at 744 Queen St. E. in Toronto. His gowns, dresses, suits and designer jeans sell internationally. StephanCaras.com
About Kyriako Caras:
Kyriako Caras was born into the world of fashion.  While growing up in his father's studio, he has developed a complementary sense of artistic expression and now designs alongside Stephan. Kyriako has a Bachelor of Arts in archaeology from the University of Toronto and draws inspiration from his knowledge of culture and history. His designs often focus on fluidity and motion. As co-designer, Kyriako and Stephan have created the collections we know today as part of the CARAS brand.
For more information, interview requests or high-res images, please contact:
Desia Halpin-Brill, BRILL COMMUNICATIONS
416-533-6425